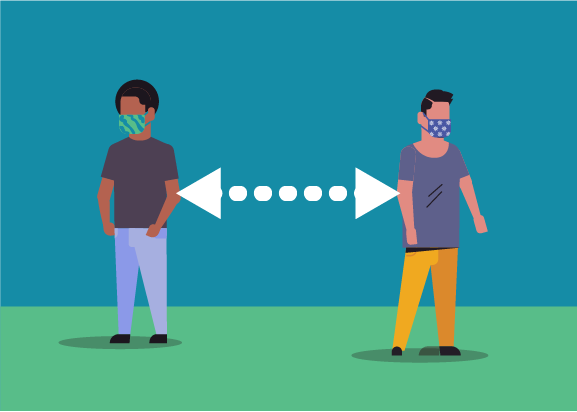 Social distancing has been proven to slow the spread of COVID-19 and is defined as staying at least 6 feet apart. During a pandemic, social distancing is especially important for people who are sick or vulnerable to the virus such as older people and those who have serious medical conditions, it's also crucial that everyone does his/her part to make sure the virus doesn't spread. Here are some practical ways to do that.
Keep your kids at home – So far, people over 75 years old have been affected the most severely by COVID-19, but that doesn't mean your child can't be a carrier, or even worse get sick. Try to keep your children home from group activities whenever possible.

Work from home – If your job allows you to work from home, you should. Meetings and day-to-day interactions with colleagues could lead to virus spread.
Wear a cloth face mask – Everyone, sick or healthy, should wear a cloth face mask in public settings where other social distancing measures are difficult to maintain (e.g., grocery stores and pharmacies).

Order online – By ordering items online rather than visiting the store, you can reduce your exposure. If you need something right away, consider in-store pickup so you are in and out quickly. You also can utilize home delivery services where available.

Avoid flying – If those infected with COVID-19 travel, they not only expose fellow passengers to the virus they also expose a new community at their destination. If you are planning to travel, visit the CDC's Traveler's Health webpage for updated information about your destination and travel health.

Avoid visiting other people's homes – COVID-19 is spread from person-to-person, so that means you don't have to be in a large group to catch or spread the virus. Try face timing loved ones or visit with them through the window or door.
Information about Coronavirus is changing every day. Visit the CDC's website for the most accurate, up to date information and learn more about social distancing.