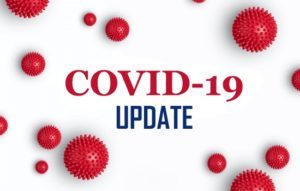 Businesses continue to reopen. Schools are back in session. We're playing high school football and volleyball, pro basketball, soccer and baseball are underway after either delays or starting seasons later than normal and pro football began play this past week. Many restaurants are open for inside dining. Thank goodness, many of us are able to get haircuts at our salon or barber shop of choice. Face masks are, for the most part, required. Medical experts, though opinions vary markedly, stress that face masks are a key to overcoming the COVID-19 outbreak.
Experts say states must effectively test for corona virus and follow that testing up with contact tracing. And people must change their behavior to make social distancing--six feet apart and no contact--and mask wearing part of daily life. Only then would it be possible to flatten the curve without having to revert back to a full-blown lockdown, medical experts stress.
Washing hands often with soap and water for at least 20 seconds is essential, especially after going to the bathroom; before eating; and after coughing, sneezing, or blowing one's nose. If soap and water are not available, the Centers for Disease Control and Prevention recommends consumers use an alcohol-based hand sanitizer that contains at least 60% alcohol.
These have been common practices not shortly after the outbreak in January of this year.
The timeline behind the emergence of the virus, which began in Wuhan, China, in December, 2019, has expanded to touch nearly every corner of the globe.
Here's a rundown of how it has unfolded:
• Jan. 21, 2020: First confirmed case in the United States.
• Jan. 30, 2020: The World Health Organization declares global health emergency. For the sixth time in history, WHO declares a "public health emergency of international concern," a designation reserved for extraordinary events that threaten to spread internationally.
• Feb. 26, 2020: First case of suspected local transmission in United States. The CDC confirms the first case of COVID-19 in a patient in California with no travel history to an outbreak area nor contact with anyone diagnosed with the virus. It's suspected to be the first instance of local transmission in the United States. Oregon, Washington and New York soon report their own cases of possible community transmission.
• Feb. 29, 2020: First death reported in United States in Washington state, after a man with no travel history to China dies on Feb. 28 at Evergreen Health Medical Center in Kirkland, Wash.
• March 13, 2020: President Donald Trump declares a U.S. national emergency, which he says will open up $50 billion in federal funding to fight COVID-19.
• March 15, 2020: CDC warns against holding or attending gatherings larger than 50 people, including conferences, festivals, parades, concerts, sporting events and weddings for eight weeks, recommending that individuals cancel or postpone those events to avoid spreading the virus or introducing it into new communities.
• March 17, 2020: Coronavirus now present in all 50 states. West Virginia reports its first COVID-19 case, meaning the disease is present in all 50 states.
• March 20, 2020: New York City declared U.S. outbreak epicenter when it reports that more than 15,000 people have tested positive for COVID-19 and account for roughly half of the infections in the country. The vast majority of New Yorkers with COVID-19 are in the New York City region, which Mayor Bill de Blasio calls the "the epicenter of this crisis," warning that the outbreak will get worse as supplies dwindle.
• March 26, 2020: United States leads the world in COVID-19 cases. The United States now has more confirmed coronavirus cases than any other country in the world, with cases topping 82,000 and deaths topping 1,000.
• April 2, 2020: More than 1 million people around the world have been diagnosed with COVID-19. Given testing shortages, undiagnosed cases and suspicions about governments obscuring the scope of their respective outbreaks, the actual number of people sickened is believed to be much higher.
• May 27, 2020: The pandemic has now killed more than 355,000 people worldwide and more than 100,000 people in the United States.
The CDC's national ensemble forecast predicts that weekly reports of new COVID-19 deaths may decrease nationally over the next four weeks, with 3,300 to 7,500 new deaths reported during the week ending September 26, 2020. The ensemble indicates that the number of total COVID-19 deaths is likely to reach between 200,000 and 211,000 by this date.
So, all this being said, what's next? What looms this fall, just as summer--our most unusual ever--has left us? (Can you see what the little kids wrote when the teacher asked them to write their essay, "What did you do on your summer vacation?")
We've all missed a lot. Emphasize A LOT. We've been home A LOT. For those lucky enough to have been able to work from home, we've seen the same-old same-old family members and surroundings A LOT.
Sadly, perhaps due to a lethargy which has fallen like a pall over us all thanks to the COVID-19 pandemic, we have become complacent.
During this time, we need to get moving, form a plan and put it in motion.
What looms on the horizon is an even worse outbreak of the COVID-19 virus this fall, according to public health officials.
According to Jeff Edelstein, founder of SOS Survival Products in Van Nuys, Calif., an emergency supply store that sells everything from freeze-dried food to mylar sleeping bags to splints, "Following disasters, people get tired of dealing with that disaster." Edelstein noted he has been in business since 1989 and have dealt with the L.A. riots in 1992 and all the major earthquakes over the last 31 years throughout the world. "But right now, we're seeing a lot more complacency than preparing."
What the experts say you need to know--and need to do
• Build a solid personal finance and health foundation
• Have a plan and use it
• Get your home ready for two weeks of self-reliance, including food, water and medications
• Build connections with your community
During this time of COVID fatigue, you need to perk up and get ready for that next spike.
Consider this: If the coronavirus makes a strong return with a vengeance this fall, it will be coinciding with the flu. Natural disasters are already keeping different parts of the nation at bay, such as hurricanes and wildfires. What we didn't have in March but have now stocked up on, will probably become just as important this fall if and when we are forced to once again shelter in place.
So getting prepared isn't just a matter of stocking up on all the items you learned you didn't have this past March to successfully shelter in place but for additional layers of an emergency occurring at the same time.
Put your finances in order
One of the first items on your preparedness list is to put your finances in order.
A 2018 Federal Reserve survey of household economics reported about 40% of Americans would struggle to come up with $400 to pay for an unexpected expense without using a credit card. Considering what we've all been through with the pandemic, not even taking into account if you live in areas stricken by natural diasters, that statistic is likely worse, with the pandemic prompting unprecedented layoffs that have escalated the U.S. unemployment rate to 13.3%.
Simply put, we should be taking steps to reduce our debt and yes, build yourself a rainy day fund Financial problems
increase a person's risk of emergencies and reduce their ability to handle them because they have fewer options and resources, Ramey said.
Part of putting your finances in order should be having at least a two-week supply of food and water for each family member, per the Federal Emergency Management Agency. That means at least one gallon of water per person per day and food that is non-perishable and easy to store.
FEMA notes that an easy way to build up that supply is gradually, so each time you go to the grocery store, pick up an extra can of tuna or box of pasta or gallon of water.
Get in shape, get healthy
The CDC reports six in 10 American adults have a chronic disease, and four in 10 have two or more, thus putting those who have chronic diseases have a higher death rate if they contract COVID-19.
If you're not healthy, you will be less capable of handling the physical demands inherent in an emergency, such as walking or carrying a go bag, Ramey says. Fitness reduces a person's risk of health-related emergencies and increases their chance of survival.
While there's no single way to get in shape, what is important is to find out what works for you and get moving, Ramey stresses.
Make sure you have enough medicine and PPE
You should keep a periodic check of your medicines, including over-the-counter medicines such as pain relievers and stomach remedies, and fluids with electrolytes and vitamins.
The pandemic has already prompted people to buy masks, gloves, and hand sanitizer personal protective equipment. All those are essential should we have additional outbreaks and supplies must be maintained.
Know what to do
If a disaster strikes, knowing what to do if a disaster strikes is usually the hard part, which includes how to handle a second wave of the coronavirus.
FEMA recommends putting together a plan for contacting one another and reconnecting if separated. They say the plan should be tailored to your specific daily living needs and responsibilities, including children, pets, elderly relatives, and work.
Once you have a plan, practice it. CIS Insurance hopes this information helps us all stay safe and healthy.